Moving one mega piece into an isolated location in Middle America is hard enough, but moving eight humongous pieces is like putting together a 5000 piece puzzle. After nearly two years, Edwards Moving & Rigging completed this complex puzzle.
Obstacles
12 loads of steel plate, matting, and jumpers required to protect underground utilities, drain pipes, and structures.
Transport in a flood plain where flooding experienced during most of our transporting.
Sub zero temperatures throughout the transport.
Solutions
Re-grading and rock piling to ensure the terrain was suitable for roll off at the offload site.
Edwards convoyed multiple components during this project.
Rebuilding a railroad crossing.
In just 14 miles, Edwards would be required to develop a communications plan between three power companies, one telephone company, one cable company, local EMS and fire departments not to mention two school districts.
Record-Breaking Bridge Links Counties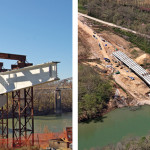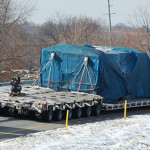 Edwards Project Cargo Video