When an Edward's client sold two gas turbine generators to a power plant in rural Kentucky, it wasn't long before they realized that delivery of these mega-sized components would present a multitude of challenges. Edwards Moving & Rigging would develop a comprehensive plan over several years that would culminate in an on-time, on budget delivery despite record breaking snowfall and a multitude of challenges.
Challenges
Navigating through construction with load clearances of less than inches on each side. A governor declared state of emergency for record snowfall.
The removal of 55′ of guardrail. A 20 foot box culvert within view of the final destination, would need shoring and cribbing.
Specifics
BRIDGES: 47
OVERPASSES: 44
Three of which were less than 16 feet tall and two with less than 2 inches of clearance.
TOTAL AXLES: 38
Using a 32-axle dual lane Goldhofer and pushed and pulled by two prime movers.
WEIGHTS:
Turbine Skids – 843,296 pounds
Generator Skids – 821,008 pounds
Auxiliary Skids – 500,992 pounds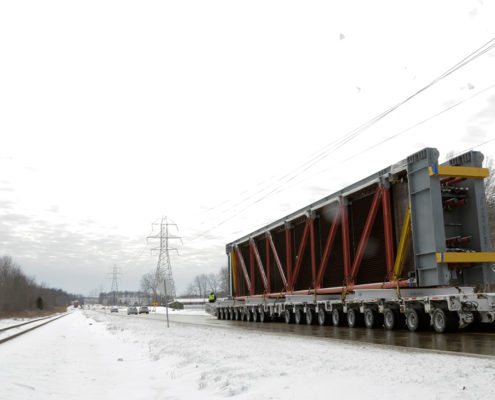 Edwards transported (32) HRSG Modules along a 10 mile route to a job site in the Midwest US.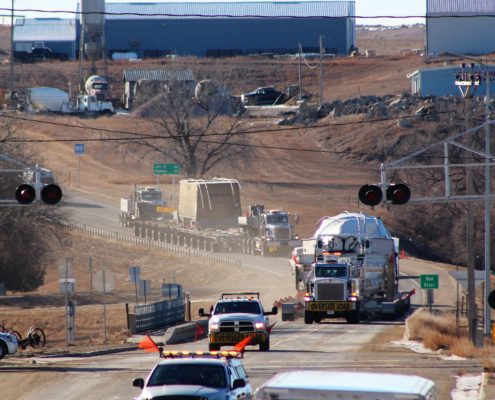 Watch Edwards move cargo from the Port of Houston to a new Power Plant in Canada.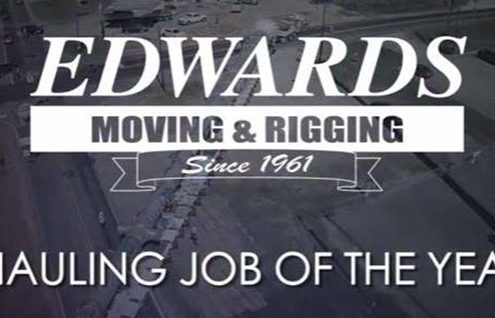 Edwards wins 2018 SC&RA Hauling Job of the Year in the 160,000 - 500,000 lbs. category. Watch how we did it!