Record-Breaking Bridge Links Counties
A record-breaking project to build the bridge with the longest precast segmental span in North America is on course for completion this year. The Kentucky crossing, replacing an old truss bridge between Henry and Owen counties, will have a span of 325 feet.
Edwards was contracted to move the pier segments for the bridge off the barge and lift both the pier segments and the drop-in segments with our revolutionary 800-ton strand jack system. The process would involve constructing the strand jack system, moving the pier segments off the barge with the Goldhofers, raising the pier segments 55 feet high using the strand jacks, and placing the pieces onto the bearings using the self-propelled risers.
The process would have to be completed on both the east and west side of the river, while drop-in beams had to be lifted from the center of the river from a floating barge.
Specifics
Pier Segments – 169 tons each
Drop-In Segments – 129 tons each
Beams – 185 feet long
Despite ten to twenty foot rises in the water level and area wide flooding, we stayed on track and delivered our portion of the job on time and in a safe manner. We're extremely proud of being part of building a record setting bridge in Kentucky.

-Mark Edwards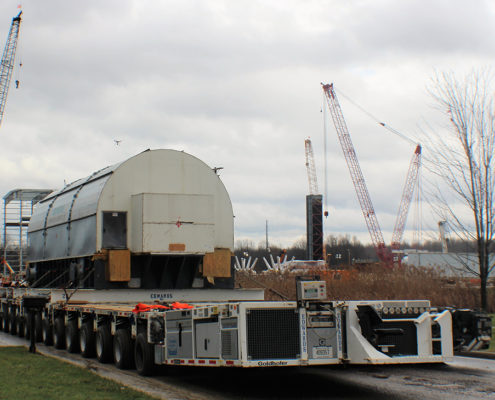 Edwards Moving & Rigging transported a Gas Turbine Generator to a new power plant construction in the Midwest US.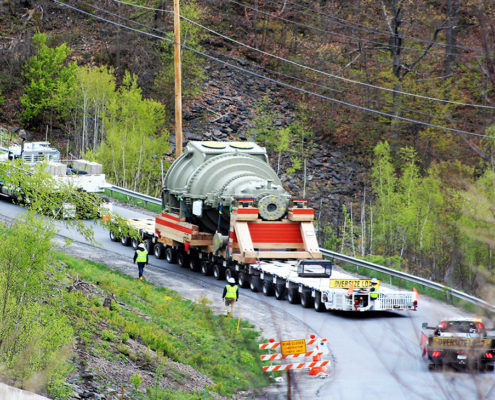 Watch our Goldhofer ADDrive power this 375,000 lb. turbine up a 11% incline in the mountainous northeast US to the job site and then maneuver on site for offload placement.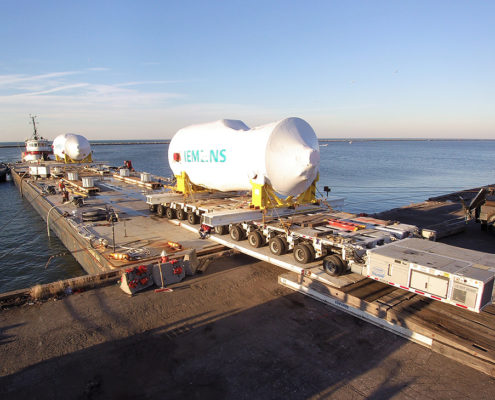 This multi-modal transport involved barge and rail for final delivery to the job site.